What can we help you find?
default
Name
Spire Growth Full Width Hero
Driving future growth
No
At Spire, we're always looking to what's next, using the strength of our energy to keep advancing and innovating for a better tomorrow. 
default
Name
White blank background
Stepping forward
No
With strong performance in FY21, consistent growth in our natural gas utilities and promising opportunities on the horizon, we're confident in our ability to continue delivering results.
5-7% growth target
Based on our continued and consistent growth, we've raised our long-term net economic earnings per share growth target range to 5-7%, with an FY22 net economic earnings per share guidance of $3.70-$4.00.
$3.1 billion 5-year capital investment plan
Strategically positioning ourselves for the future, we're accelerating our capital investment plans by launching an expanded five-year capital spend totaling $3.1 billion, up about $100 million from our prior five-year forecast through fiscal 2025.
7-8% rate base growth
Investing in capital, including infrastructure upgrades, drives annual rate base growth of 7-8%, with regulatory mechanisms ensuring minimal regulatory lag in recovering our costs and investment.
default
Name
White blank background
Delivering results
No
In FY21, we remained resilient, answering challenges while continuing to drive value, resulting in a net economic earnings per share of $4.86. This increased value was driven largely by non-recurring benefits from Spire Marketing due to Winter Storm Uri.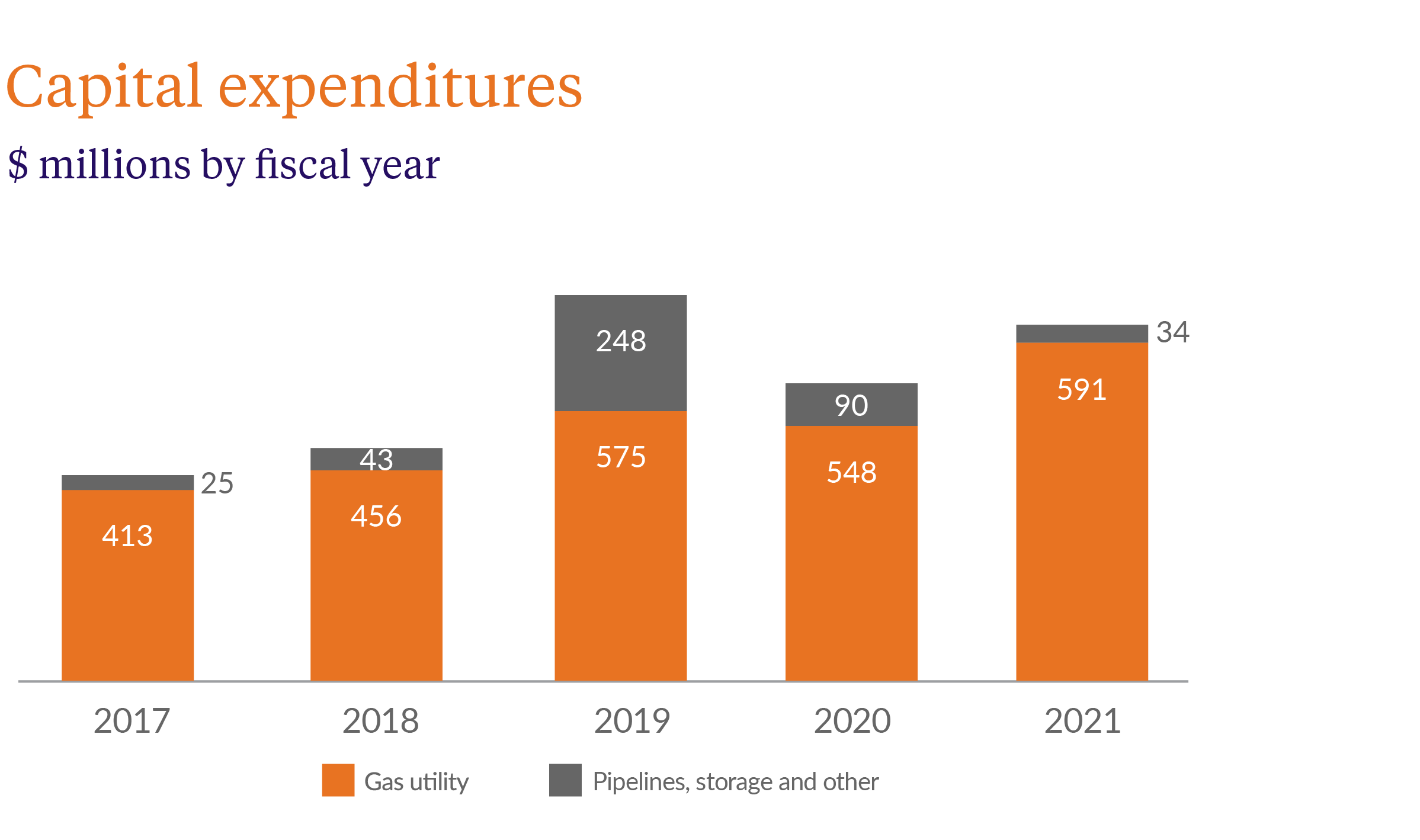 Increasing capital spend
We invested a total of $625 million dollars in FY21, with over half of our utility investment for infrastructure upgrades. Through that program, we replaced 291 miles of pipeline, further driving sustainability in support of our midcentury carbon neutrality commitment.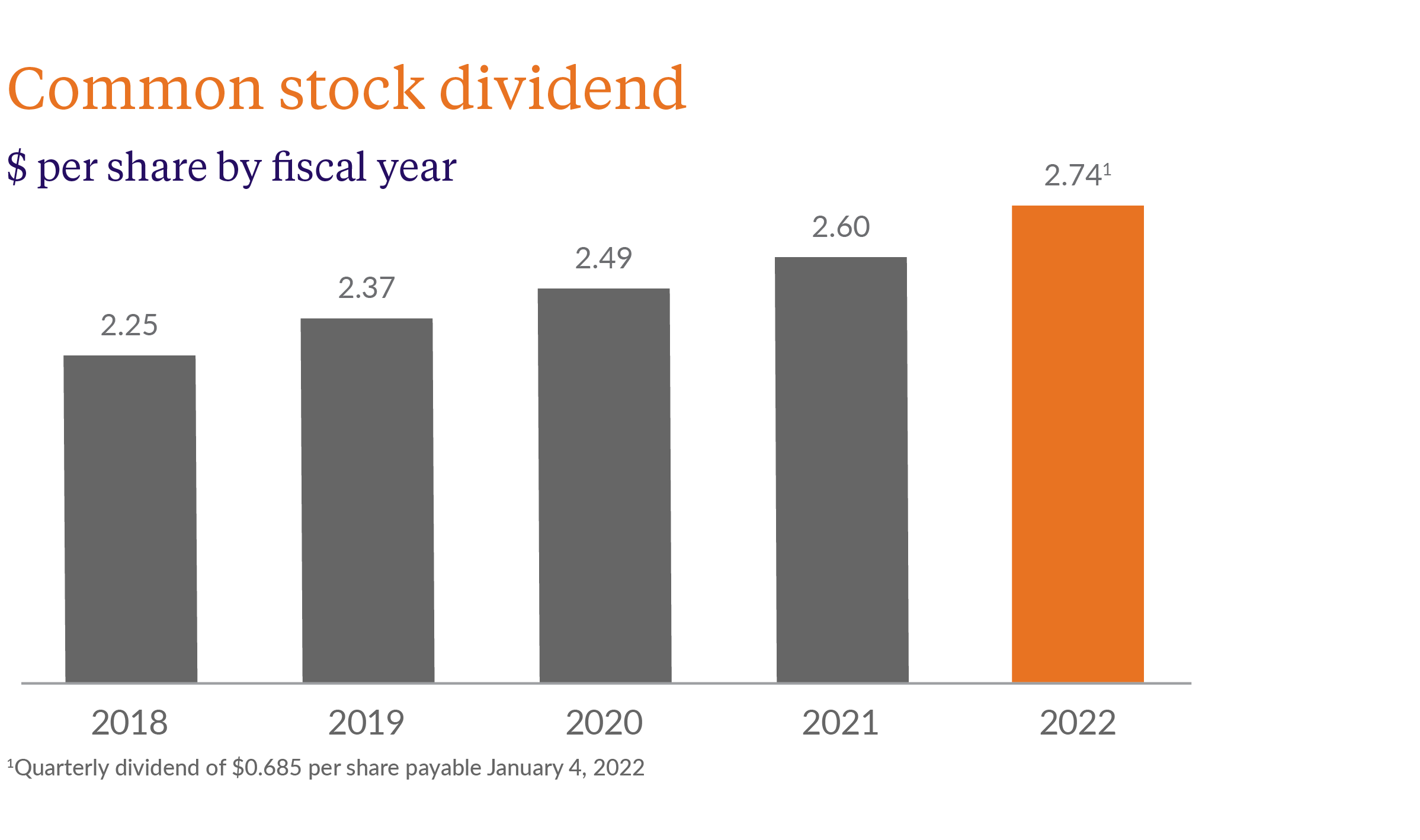 Raising our dividend
Having confidence in our long-term growth strategy, Spire's Board of Directors approved a 5.4% increase to the common stock dividend, making it the 19th consecutive year of increases.
default
Name
White blank background
Growing organically
No
We continue to invest in our business, reaching new customers and communities across the areas we serve.
Increasing investment in new business
Our new business spend has continued to grow every year over the last five years, totaling nearly $140 million in FY21, up 30% from last year. We continue to add new meters at a growing rate, with new premise activations up 5% over last year.
Name
New Premise Activation
Growing conversions
In FY21, we saw a significant increase in customers converting from propane or all-electric to natural gas, with 38% more conversions in Alabama and Mississippi and 36% more in Missouri compared to FY20.
Expanding our reach
We completed the addition of a natural gas service line along Highway 98 in West Hattiesburg, Miss., bringing new energy to the businesses and communities throughout the region in FY21.
Retaining our customers
Increasing customer retention efforts resulted in nearly 1,500 meter re-activations at existing premises with Alabama doubling the number of meters renewed in FY21 over FY20.
default
Name
White blank background
Advancing through innovation
No
From using advanced analytics to streamlining processes for greater efficiency, Spire employees are continually exploring and discovering new ways of serving our customers better than ever before.
Enhancing our training options
Using augmented reality (AR) technology, we can now provide a hands-on training experience through a digital lens, creating a more efficient and effective training process for installing and repairing ultrasonic meters.
Upgrading to advanced meters
In FY21, we installed more than 138,000 ultrasonic meters across Alabama and Missouri. This sets the stage for real-time data that provides enhanced safety, seamless service and even better support for our customers.
Transforming the way we work
In FY21, we completed our enterprise-wide technology system upgrade, streamlining internal systems and processes to create greater efficiencies across our company that will, ultimately, lead to a more seamless customer experience.
Increasing customer satisfaction
Each quarter, we survey our customers who contact us, whether by calling the call center, logging into My Account or interacting with a service technician. All seven of our key metrics either improved or maintained compared to FY20, demonstrating our commitment to serving customers even better.
default
Name
Spire employee in office